Pasco Schools to Hold Information Meetings on New State Standards

 

        

    Land O' Lakes, FL – (December 10, 2013) – Pasco County Public Schools has scheduled a series of 13 community meetings starting at Anclote High School on January 14, 2014, to educate parents and the community about Florida's new standards for k-12 students.

            Meetings are scheduled from 6 p.m. to 8 p.m. at each district high school for parents whose children attend the high schools and the elementary and middle schools that feed into them.  Those who attend will hear a presentation by district experts, receive materials explaining what the Common Core State Standards are and are not, and participate in a question and answer period.

            The Florida Board of Education adopted the standards in 2010, and in 2011 schools began implementing curriculum and training teachers to help kindergarten and first grade students master the standards.  The standards will be fully implemented in all grades starting with the 2014-2015 school year.

            The meeting schedule is attached.  It also can be viewed by going onto the Pasco Schools homepage, www.pascoschools.org , and clicking on the CCSS link under Quick Links. The Common Core page includes news links and multiple sources of information for students, parents, and the community.
We wish to congratulate, Ms. Sutula for being voted Sunray's Teacher of the Year and Ms. Baker for being voted Sunray's SRP of the year.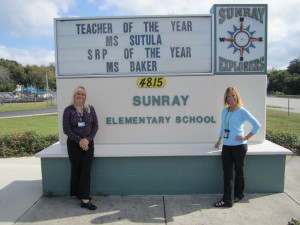 Wednesday, December 4 – PTO Executive Board
Thursday, December 5 – Student Picture Re-Takes
Thursday, December 5 – Cookies and Milk with Santa
Tuesday, December 10 – Astro Skate Night
Thursday, December 12 – Winter Concert 7pm
Tuesday, December 17 – SAC Meeting
Thursday, December 19 – McExplorer Night
December 21 – January 7 – Winter Break
Wednesday, January 9 – General PTO Meeting
Thursday, January 16 – Chinese New Year PTO Meeting
Monday, January 20 – No School
Tuesday, January 21 – McExplorer Night
Thursday, January 5 – Student Picture Re-Takes
Tuesday, January 28 – SAC Meeting
Tuesday, December 28 – Astro Skate Night